News & Events
Teenagers from Operation Flinders will walk the Kokoda Track in Papua New Guinea
Including one of our own Avenues Students .... Year 11 Madison Phillips!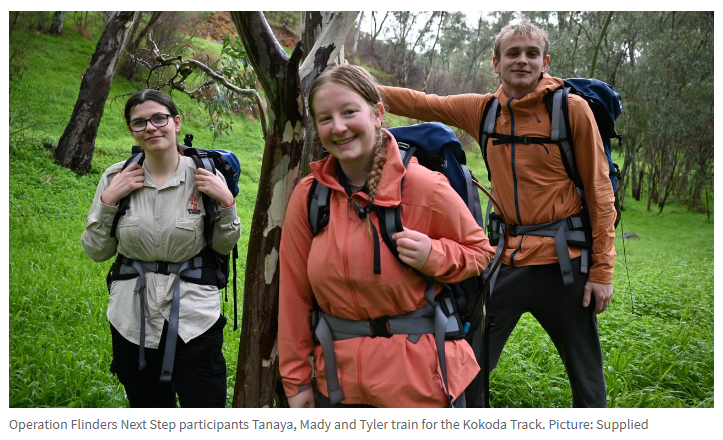 A group of once-troubled teenagers, who have overcome significant hurdles to turn their lives around, will follow in the footsteps of Australia's military heroes on the Kokoda Track.
Tyler and Tanaya are both 18 and have never been on a plane. Mady is 16 and is also yet to experience the thrill of takeoff, the nervousness of turbulence or the comforting screech of rubber touching tarmac upon landing.
This will all change in a few short weeks' time – but embarking on their first plane flights will only be the start of an adventure the trio could never have imagined a few short years ago.
Because when they finish their journey in the sky, the once-troubled teens will start a much more down-to-earth endeavour – they'll be following the footsteps of heroes and hiking the Kokoda Track in Papua New Guinea.
Tyler, Tanaya and Mady are three members of an eight-strong team of teenagers selected by SA charity Operation Flinders to embark on the historic hike.
The nine-day walk through the rainforests and mountains of PNG's Owen Stanley Ranges will be well outside of the comfort zone of the participants, who have all overcome significant hurdles to put their lives back on track.
Mady was a participant in an Operation Flinders' eight-day adventure therapy walk in the northern Flinders Ranges.
Mady had a difficult childhood and her parents separated when she was seven. She admits she rarely attended school and was a D and C-grade student before moving from country Victoria to Adelaide and teachers at her new school, Avenues College, asked if she wanted to do Operation Flinders.
Mady is the first to admit she didn't love the blisters, prickles and aching limbs that are part and parcel of the eight-day hike on Yankaninna Station.
"But I was eating my muesli bar on top of a mountain and I don't know what came over me," she says.
"I was like, from here on I'm going to change my life. I'm going to be more than what my father and mother were, I'm going to prove to everyone that I can be what I want to be." Since that moment two years ago, she's been a straight-A student with a part-time job and harbours dreams of becoming a paediatric doctor or a paramedic.
Mady was overflowing with excitement when she discovered she'd been selected for this month's Kokoda trip - funded by Operation Flinders and the Duke of Edinburgh award. Two Operation Flinders staffers and a volunteer will join them.
More than 600 Australian soldiers were killed and about 1600 wounded in battle against the Japanese along the Kokoda Track during World War II.
The valour of the soldiers in repelling expansionist Japanese forces seemingly on route to Australia has become etched in Australian military folklore.
Taken from Adelaide Now Article published by Paul Ashended, 5 August 2023